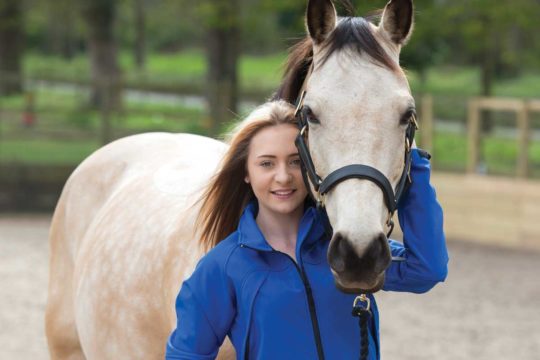 Are you ready for a pony?
Wanna see if you're cut out for pony ownership? Take our fun quiz to find out...
If you've been riding for a while and dream about getting a pony, this quiz is for you! Imagine you have the chance to own a pony for the day. You'll need to make choices on how best to care for him from dawn till dusk. At the end, we'll let you know if you're ready for the real thing! 
It's a rainy Saturday morning. What do you do?
When you arrive at the stables, which task do you complete first?
You need to clean the mud off your pony's body before riding. He's unclipped, so which brush do you use?
You're schooling your pony and want to work on straightness. Can you think of a good way to do this?
Your friend's hoping to get their first pony, too. They want a well-mannered, calm allrounder. Which breeds do you suggest they look for?
When checking your pony's paddock, what hazard would you deal with first?
It's a clear, warm night. As your pony's unclipped and stabled overnight, which rug do you put on?
You're hacking out and need to turn right onto the next road. How do you do it?
Your pony seems to be dropping food out of his mouth when he's eating. What should you do?
It's time for your pony's first clip of the year. He's been getting really sweaty while you're riding, but he's only in light work. Which clip would suit him?
Are you ready for a pony?
Try part-loaning or sharing a pony
You love ponies to bits and already have some knowledge. However, it would be a good idea to try part-loaning or sharing a pony before getting one of your own. It'll give you an idea of the commitment involved in caring for a pony. You'll get all the fun of having a pony to ride, plus a little bit of help, too.
Keep brushing up on your pony know-how
Riding's your fave thing, but owning a pony's a big responsibility. Keep brushing up on your pony know-how and learning new things. Why not go to an own a pony day at your local riding centre? You'll learn loads and there'll be someone around to help you if you aren't sure about something.
You would make a great pony owner!
Congratulations! You would make a great pony owner. You've shown you have what it takes for the early mornings, commitment and responsibilty of caring for a pony. Remember, though, it's always useful to ask an instructor or knowledgeable adult for advice when you need it.
More Quizzes
Have a go at our fun quiz to test whether you know what different bits are used for, and how to fit them correctly.
View Quiz
Pony Mail
Sign up for all the goss and more
Sign up now