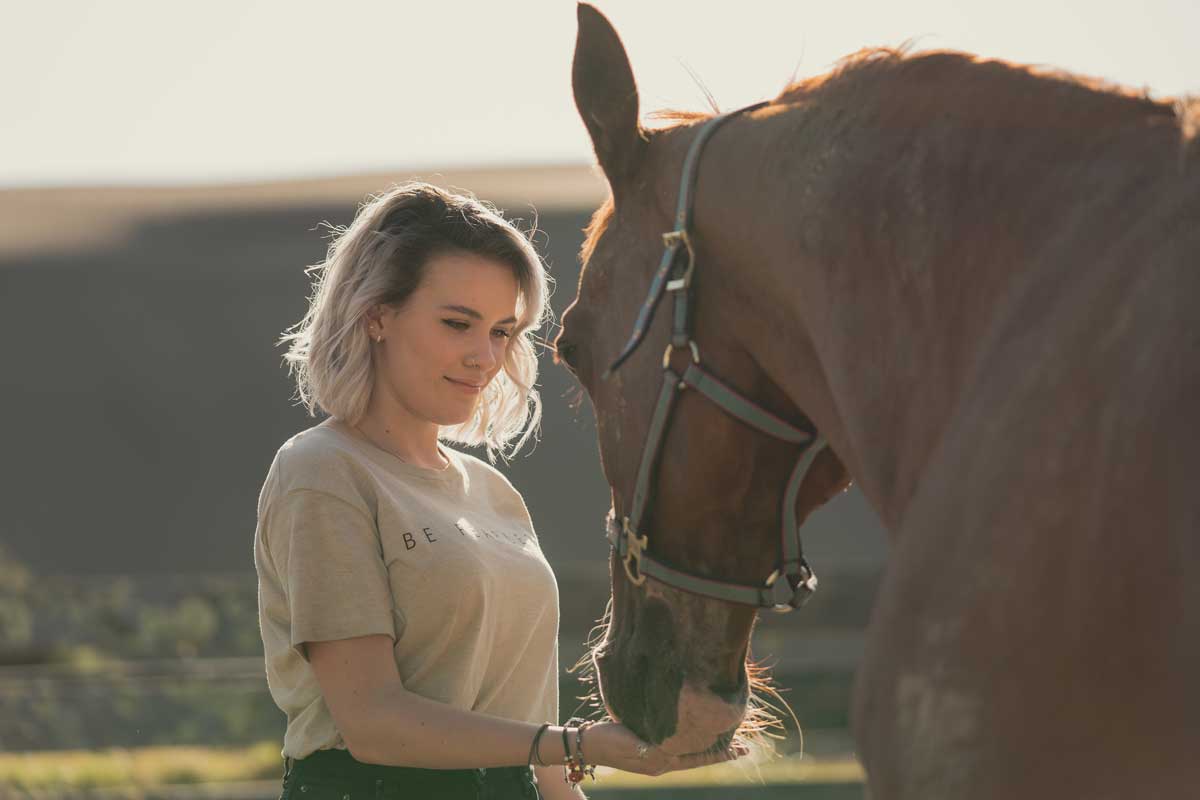 Discover more about awesome horsey TV programme Mystic from the star of the show, Macey Chipping
Did you know? If you think you recognise Macey, she appeared in Holby City for three years!
Mystic is being shown on CBBC and BBC iPlayer and it's about a teenage girl called Issie, a mare she rescues called Blaze and a mystical horse who only Issie can see! Issie's played by Macey Chipping, and PONY mag caught up with her to find out more about this epic TV show…
Q. Which character do you think viewers will like the most?
Each character in Mystic has a very different personality and style, so there's someone for everyone to relate to! Issie's the main character, but I'm not sure everyone will love her straight away. She can be very strong-minded and defiant, although she always does things for a very good reason. I think lots of people will like Dan, who works for Tom at the stables. He's really sweet and kind, and he's great with horses, too!
Q. Issie and Natasha clash a lot in the show. What's the deal there?
Issie and Natasha are very similar people, and they definitely don't see eye-to-eye at the beginning. But both of these characters are on a journey, and the relationship between them does improve through the series. It was actually quite difficult to argue with Natasha because I'm really good friends with Antonia, the actress who plays her! She was the first person I met in New Zealand, and we got on straight away.
Q. What were your most fave things about filming?
I loved doing the join-up scene with Blaze in episode 2, and filming in New Zealand was very special. We used some amazing locations, and the scenes we shot on the beach with Mystic were incredible.
Q. Can you share any funny or embarrassing moments about filming?
A With horses around there was never a dull moment! In one scene, Blaze was supposed to be really agitated, but when the camera panned round to Socks, one of the horses who plays her, intead of rearing up and pawing the ground he was looking super-calm and having a poo! There was another scene where Issie and Blaze were supposed to be having a really heartfelt moment together. Cash was playing Blaze that day, but he wasn't really into it. Everyone was really patient with him, and we'd eventually got to the very end of the scene, where all I needed to do was turn to stroke 'Blaze'. But instead of looking like he was connecting with me, Cash just swung his bum round towards me and started having a wee! It meant we had to do yet another take, but we all saw the funny side!
Your Comments
6 responses to "Mystic facts and goss!"
Pony Mail
Sign up for all the goss and more
Sign up now