Learn everything you need to know about caring for your fave pony. From feeding and grooming to mucking out – we have it all here!

Improve your riding with our fab articles! Whether it's building your confidence, riding shapes, or jumping spreads that you need tips on, we have something for every rider.
Latest News
Putting a bridle together
Posted in Stable Management
Put your fave pony's bridle back together like a pro every time
Once you have shined your tack to perfection follow our simple steps to put your bridle back together.
Step 1 – headpiece
Check the headpiece is the correct way round – the throatlash should be to the back – then slide the browband onto it.
Step 2 – cheekpieces
Attach the cheekpieces to each side of the headpiece.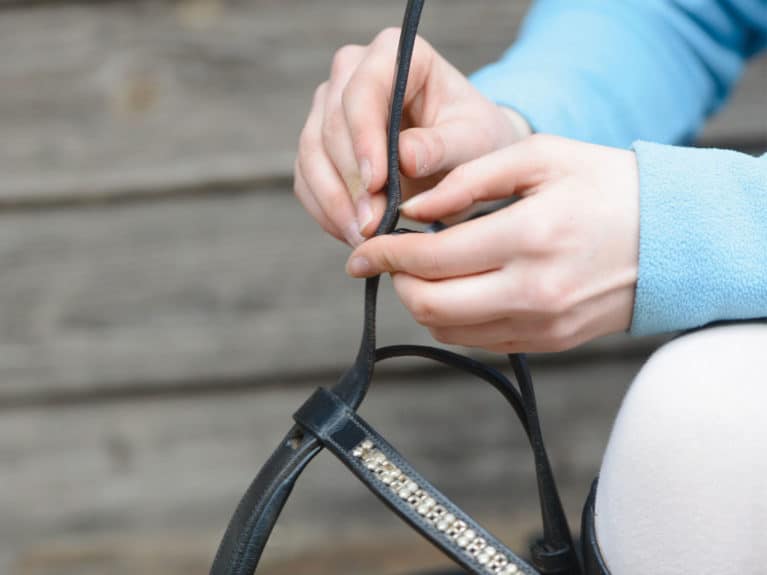 Step 3 – the bit
Attach the bit to the cheekpieces. Check the bit is the right way round – the mouthpiece should be slightly curved forwards to fit in your pony's mouth.
Step 4 – noseband
Thread the long strap on the noseband through each side of the browband and inside the headpiece, then fasten to the other strap on the noseband.
Top tip – Check the noseband hangs inside the bit and cheekpieces
Did you know? On some bridles, the long strap from the noseband sits over the headpiece, rather than under it.
Step 5 – reins
Fasten the reins to the bit rings below the cheekpieces, making sure they're not twisted or tangled.
Top tip – Practice makes perfect when it comes to putting bridles back together. Why not challenge your friends to see who can do it fastest, or even blind-folded?
Are you ready for the next step? check out how to put your bridle on your pony and check its fit.
Your Comments
Pony Mail
Sign up for all the goss and more
Sign up now