Learn everything you need to know about caring for your fave pony. From feeding and grooming to mucking out – we have it all here!

Improve your riding with our fab articles! Whether it's building your confidence, riding shapes, or jumping spreads that you need tips on, we have something for every rider.
Latest News
Posted in Flatwork
Here are some brilliant ideas on how to reign supreme at games this summer, with top tips from mounted games experts Ben and Eleanor!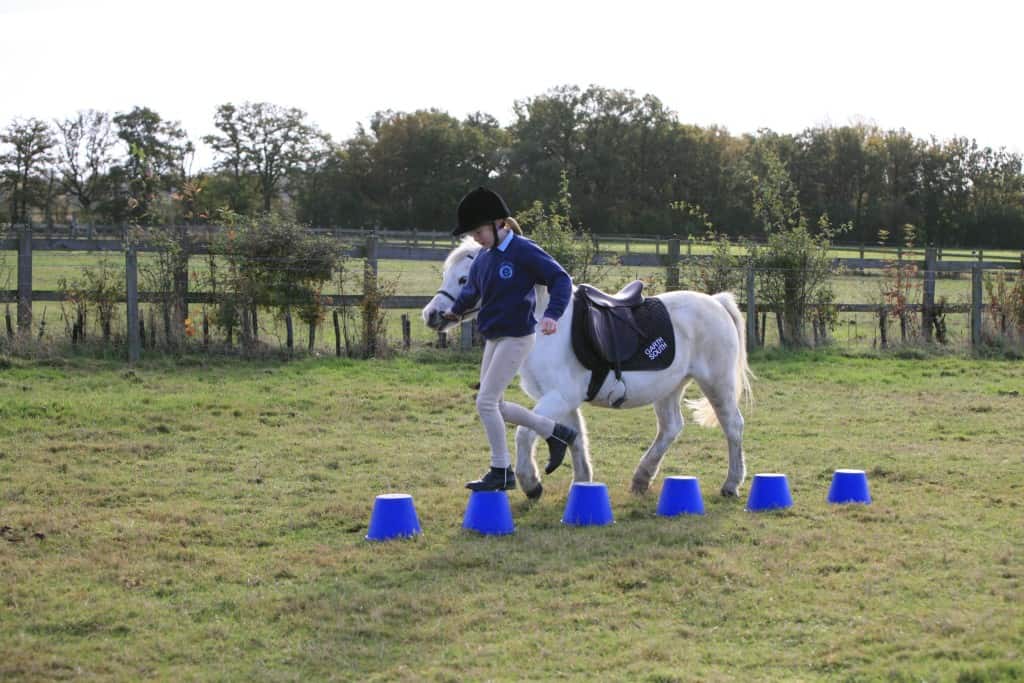 13-year-old Ben Hopkins is the reigning Under 12 World Individual Champion, Under 12 World Pairs Champion and Under 12 British Team Champion! Ben has won five world titles, a European team title with Wales, and three British team titles riding for Monmouthshire. Here's Ben's top tips for mounted games success!
To be a mounted games rider you need to be fit, agile and competitive. Although mainly a team sport you can also take part in Individuals and Pairs competitions, you need to have a keen and well-practised eye with a good-eye-to-hand co-ordination!
Flighty ponies aren't always the best for mounted games. Your pony needs to be safe, sensible and not scared of objects, but also well mannered, controllable in a snaffle bit and be responsive to the leg. Many top games ponies are also very good jumping ponies, and often play other sports too, not just games!
The good thing about games is you can compete at many different levels, from novice to the top. With many competitions you can go to all over the UK most weekends. There is also the chance to travel abroad – the MGA is now in 23 countires around the world, and has recently started in Iran!
As a team rider you need to be prepared to work hard, train hard – but most of all, have fun!
Mounted games are about having fun with your pony. I've made friends all over the world and travelled to some great places abroad with my pony, but equally you can enjoy games at home in the field. I've friends who are highly competitive and other friends just enjoy having a go. It's a great family sport, and many top international riders have enjoyed competing in mounted games at some point in their lives!
Ben's tops racing tips

Bottle Shuttle
Always practise this race in both directions. When at home, place a bin on the spot with a pole on the top line. Practice putting the bottle on the bin then go around the top pole and pick the bottle off on the way home. This gives you the opportunity to practise both parts of the race when you're on your own at home!
Speed Weavers
"This is the most popular game," says Ben, "weaving through a set of five poles, approx nine metres apart. Most ponies start on the left of the first pole so at the top pole you turn right-handed around it. However, this isn't a rule and my top pony turns left-handed. Try it both ways!"
Socks and Buckets
A race that, when done correctly, is brilliant to watch, it has it all, speed, agility and athletisism. Always do this race in sections in your own head. Don't worry about the vault before you have put the sock in the bucket! Make sure your pony starts on the correct side of the bucket, travelling on a slight diagonal line across the front of the bucket. You need to get low and try to place the sock gently into the bucket without throwing it! Make sure you're quick to look up and re-align your pony ready for your dismount. Keep the pony moving around the top and then vault or stirrup on.
A year older than Ben, Eleanor Wheeler has also won the World Individual Under 12 Championship, been to HOYS with her Pony Club, Romney Marsh, and represented England at the European Championships at Under 12 and Under 14 level for England MGA! Here are some top tips on practising at home from Eleanor!
Rope
This involves riding with a partner, each holding one end of a short piece of rope.
Equipment needed: 60cm rope and four bending poles
Method: When doing the Rope race try to be as close to your partner as possible. Hold the rope about a quarter of the way down to have extra if you need it. Make sure you leave plenty of room for your partner to get between you and the pole. When turning use your outside leg to help the pony keep on track.
Litter
This is one of the most difficult races that takes lots of practice. You have to pick up litter using a cane and then put the litter in a bin.
Equipment needed: One 1.5m cane, a bin and litter (an old fashioned washing up liquid bottle with the top cut off to make a cylinder about 15cm long).
Have your cane down and ready before you get to the litter. Look down and into the litter, lean down as far as possible when picking it up. Then lift it up smoothly so it doesn't fall off. When putting it in the bin aim for about a quarter of the way down so your litter won't bounce out the bin. Then hold your cane up vertically for your changeover to the next outgoing rider.
Let us know how you get on at mounted games this summer – and send us a pic!
Your Comments
Pony Mail
Sign up for all the goss and more
Sign up now