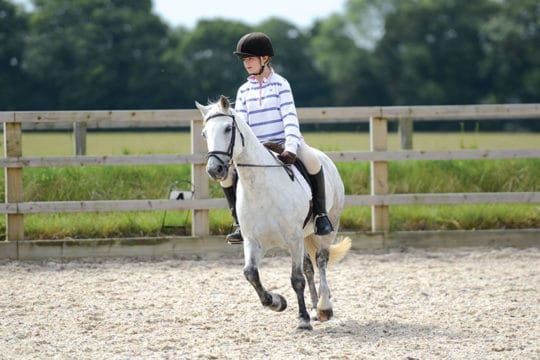 Are you a flatwork pro?
How much do you know about flatwork? Use your knowledge to guide Lucy and her pony, Harry, through their lesson, then find out if you're as schooling savvy as you think!
Lucy needs to warm Harry up at the start of the lesson. What would be the best warm-up?
Lucy's instructor, Zoe, asks her to change the rein across a long diagonal. Which of these should Lucy choose?
Flatwork isn't Harry's favourite and he can be a bit lazy, so Zoe asks Lucy to get him walking more actively. How should she do this?
To help Lucy get Harry moving forwards more, Zoe suggests she rides some transitions at each marker. How does Lucy know whether she's being accurate?
Lucy asks Harry to halt, and Zoe is impressed because it's square. What does this mean?
Lucy asks Harry to canter, but he shoots off way too fast – eek! What should she do to slow him down?
When Lucy has Harry back under control, Zoe asks her if she knows the order of footfalls in canter. Which of these is correct?
Zoe suggests that Lucy rides some serpentines in trot to get Harry focused again. When should she change her diagonal?
It's time to try a bit of leg-yield. If Lucy's leg-yielding to the right, which of these sets of aids are correct?
It's the end of the lesson, and time for a cool down. What should Lucy do?
Are you a flatwork pro?
TOTAL PRO
Wahoo! You're a total flatwork whizz! You know loads about schooling – from warming up to basic lateral work. You're a great friend to school with as you're totally clued-up and can help your mates. Keep it up!
SO CLOSE!
You're almost there! You've learnt a lot but there are some things you need to practise to top-up your knowledge. Soon you'll know exactly what you're doing in the school!
GETTING THERE
Uh-oh, you're not a pro just yet but, don't worry, it will all come together with more time in the saddle and practice. Why not have a few more lessons or ask an experienced friend for some help next time you're riding in the school? And don't forget to read all the fab flatwork features in old issues of PONY – they're full of great tips!
More Quizzes
Test your knowledge to find out if you're as clued up on Badders as you think!
View Quiz
Pony Mail
Sign up for all the goss and more
Sign up now