Louise Kittle
Editor-in-Chief
Joined PONY in 2014

Starting riding age 6

Growing up in central London, Louise's mum probably thought she would safely avoid having a horsey daughter. But she hadn't banked on the impact a pony ride would have when Louise was two years old! The bug had bitten. After years of begging for riding lessons, Louise's mum finally gave in, and began driving Louise 40 minutes out into the Surrey countryside for pony rides. Louise now owns Ted, a six-year-old Irish gelding. Together they hope to event – well, Louise at least has her plans, while Ted is currently more concerned with the whereabouts of his next meal. As Editor-in-Chief, she is often found on the phone to celebrity riders planning exciting features and photoshoots.
Showreel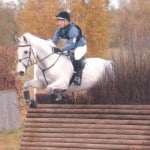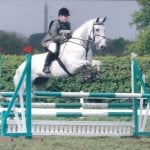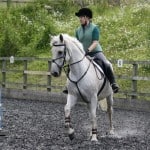 Georgia Guerin
Assistant Editor
Joined PONY in 2017

Starting riding age 9

Georgia first started riding at a charity for children who couldn't have their own pony, Windsor Horse Rangers. There she learnt everything about looking your own pony and goes back to teach riding and stable management as often as she can. After completing an equine degree at Writtle College in Essex, Georgia worked on a horseback safari in South Africa before getting a job writing for Horse&Rider magazine and then PONY. Now she owns Utah, a super-cool (but very cheeky) nine-year-old Norwegian Fjord, who loves nothing more than having 100% of your attention and going at top speed on hacks. He can be driven, too, but Georgia hasn't quite mastered that yet! As PONY's assistant editor, she spends her time writing fab features for you to read, going on lots of photoshoots and – her favourite job of all – meeting PONY readers!
Showreel
Victoria Rea
Assistant Editor Digital
Joined PONY in 2014

Starting riding age 5

Victoria started riding from a young age, spending as much time as possible at her local riding school. At the age of 10, she got her own pony, a gorgeous Connemara pony called Adam. She now owns Flynn, a 16hh Irish gelding, who often takes a starring role on the PONY Instagram page. They love eventing together, and think cross-country is definitely the best. After studying at the University of Exeter, she landed her dream job working for PONY magazine. In the office, she spends her time writing features for you all, as well as going on photoshoots, filming fab videos and covering all the goss on PONY's social media channels!
Showreel
Jessica Lewis
Junior Staff Writer
Joined PONY in 2016

Starting riding age 3

Relatively new to Team PONY, Junior Staff Writer, Jessica, has been riding since she was just three. Jessica's horsey highlight came when she was thirteen and competed in mounted games at the Pony Club Championships. She went on to gain her Pony Club AH test and is still heavily-involved with coaching her local PC mounted games team. She owns a 15-year-old chestnut mare, Twankey, but, at 16.2, she's a touch on the tall side for mounted games practice, although she probably wouldn't say no if she got the chance! Jessica studied English Literature at university, which is a good job really when you're helping to produce a magazine!
Showreel
Bethany Searby
Editorial Assistant
Joined PONY in 2017

Starting riding age 4

All it took was one sit on a pony while on holiday to give Bethany the riding bug. Fast-forward five years and a pony was bought, which catapulted her non-horsey parents into the world of horse ownership. It didn't take long to get them on board, literally, as now they're both keen riders. Bethany spent her time at university juggling English studies with schooling various project horses, which prepared her well for a job that has her writing one minute and handling correspondence or giveaways the next. After spending a year freelancing for local newspapers in her native Lincolnshire, Bethany moved to Surrey to pursue her dream career at PONY. Although she misses her homebred gelding, Phillip, who lives with her parents in Lincolnshire, she still manages to get her horsey fix 'down south' by exercising hunters.
Showreel
Katherine Sayer
Editorial Assistant
Joined PONY in 2018

Starting riding age 9

...
Showreel
Pony Mail
Sign up for all the goss and more
Sign up now